Engraved Crab Mallets
Whether you order by the dozen or by the bushel, custom engraved crab mallets are sure to be a hit. Customize your laser engraved mallets with any text, design, or logo. Personalized in the heart of the Chesapeake Bay, our Rock Maple hardwood mallets are perfect for:
giveaways, promotions and customer appreciation gifts
seafood restaurants and crab houses
selling in gift shops and retail outlets
party favors at weddings, rehearsal dinners, and crab feasts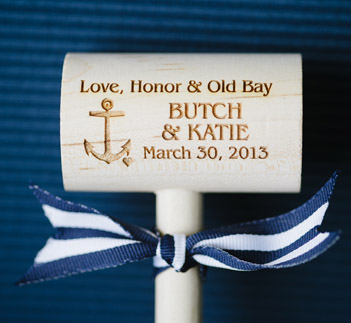 Read what our customers are saying about their Mallets
Average rating of
based on
342
reviews.
Love the crab mallets!
Used for: Wedding or party favors
Bought for my daughter's rehearsal dinner/crabfest! Love the quality and the originality! Love, Honor and Old Bay!!!
Southern Maryland Wedding
Used for: Wedding or party favors

Excellent customer service and the bride and groom were thrilled with how they turned out! Perfect gift for the guests at the rehearsal dinner crab feast. Photography by Amanda Wose amandawosephotography.com
Mallets
Used for: Promotional items
Didn't know what to expect but soooo excited they are great advertising that's affordable
Mallets are great.
Used for: Personal use
I can't wait to use them this summer.
Crabby Delight
Used for: A gift
Personalized perfectly! Recipient absolutely loved them!!