Custom Cocktail Muddlers
Our engraved cocktail muddlers make spirited retail items, promo products, and event favors. These solid hardwood muddlers have a sleek design, unvarnished finish, and a textured diamond grinding base to extract the maximum flavor from your cocktail's herb, sugar and fruit ingredients. Engrave your craft distillery's logo for a giveaway or retail item. Or personalize with your signature mojito recipe to give as wedding favors.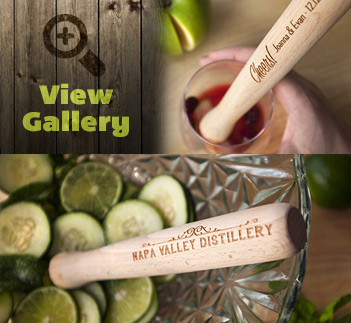 Read what our customers are saying about their Muddlers
Average rating of
based on
7
reviews.
Great Quality. Great Deal.
Used for: Wedding or party favors
The quality of the wood is good. The quality of the laser imprint is great. I'm very pleased with the overall experience. My original circular design was going to be too small to fit within the printable 4"x.55" area so I worked with their designer and came up with something that would fit better. They turned out great. I searched around a while online and couldn't find a better deal.
Huge Hit!
These custom engraved muddlers were a huge hit with the ladies of my neighborhood for our annual Christmas gathering! Great quality and excellent customer service!!