Custom Cocktail Muddlers
Our engraved cocktail muddlers make spirited retail items, promo products, and event favors. These solid hardwood muddlers have a sleek design, unvarnished finish, and a textured diamond grinding base to extract the maximum flavor from your cocktail's herb, sugar and fruit ingredients. Engrave your craft distillery's logo for a giveaway or retail item. Or personalize with your signature mojito recipe to give as wedding favors.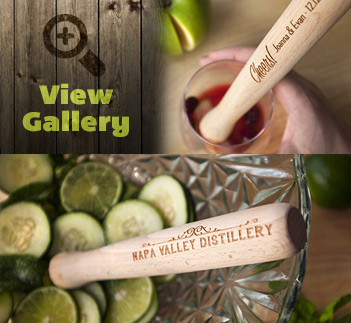 Read what our customers are saying about their Muddlers
Average rating of
based on
10
reviews.
Muddler
Used for: A gift
Great product and outstanding service
Great Company Advertisement
Used for: Promotional items
They are good quality and we were very happy with the final product.