New!

Bottle Opener Crab Mallets

The deep-rooted Chesapeake tradition of spicy blue crabs and icy cold beer inspired us to create the exclusive Bottle Opener Crab Mallet. Patented and
USA-made, this multi-purpose tool is crab feaster's best friend.

Crafted from rock maple that's solid enough to crack the most stubborn claws — and heavy-duty stainless steel that won't play favorites when it comes to caps — this keeper is ready to be personalized with your custom design, sentiments and Old Bay fingerprints.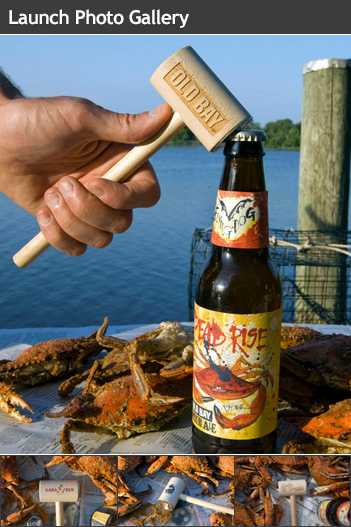 Read what our customers are saying about their Mallets
Average rating of
based on
45
reviews.
Custom Crab Mallets
Used for: Promotional items

The custom crab mallets were a hit! Quality product, unique giveaway, they were an authentically Maryland gift.
She Loved Them!
Used for: A gift
I purchased the mallets as a wedding gift for my wife because she's pretty new to eating crabs and was excited when she saw my moms plain mallet. She absolutely LOVES her gift and teased my mom cause hers has a bottle opener! The service was great. The response time to the emails were quick. And my order got to me in less than a week. Amazing service. I will be recommending your site.
Custom crab mallets
Used for: Wedding or party favors
I purchased custom crab mallets for a bridal shower. I emailed the company the same week hoping they would have them done and shipped in time and I was being satisfied! The customer service is fantastic and after receiving proofs, the mallets arrived two days after. If I could give this company more than 5 stars I would. I will be ordering from bayimprint in the future! Thank you again!
Wedding Favor
Used for: Wedding or party favors
We are so thrilled with these bottle opener mallets! Our guests are going to love them :)
custom crab mallets
Used for: Personal use
These crab mallets are the BEST! On one side our family name is engraved, the other side a maryland crab. On one of the ends is a bottle opener. I got them for a family crab feast. We talked about them for hours. The men especially loved the bottle opener. Great quality. Fast shipping. Would definitely order from them again.