Custom Crab Knives
Engraved crab knives—a perfect addition to Maryland crab feasts and corporate events. We personalize each knife with your logo, family name, or any other design. Your custom design will be permanently etched on the solid hardwood handle. Designed in Maryland by crab lovers, our knives feature a pointed stainless steel blade that makes crab picking easy. Paired with our custom crab mallets these knives will be a reminder of what Chesapeake summers have to offer.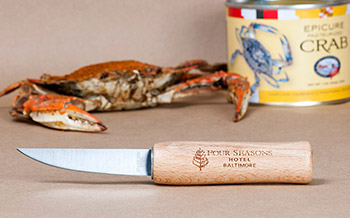 Read what our customers are saying about their Crab Knives
Average rating of
based on
6
reviews.
Ohio to Md for crabs
Used for: A gift
Knives were a gift and were very nice, but a little sharper than expected. Engraving was a special touch.
Birthday Favors for the Crab Lovers
Used for: A gift
I bought a couple of dozen crab knives and had them engraved my for moms birthday party. Since we were having crabs at the party, I had one made for all the guests. They were the hit of the party - good thing I had a few extra made because they disappeared quickly!
Love!!!
Used for: A gift
I gave these to my hubby for his birthday and he loves them
Gift
Used for: A gift
I was very satisfied with the service on my order and the appearance of the Knives, but they were a gift to my son and as soon as we have our first crab outing I will let you Know the outcome.
crab knives
Used for: A gift
Got 6 for a Christmas gift. They came fast and were a great quality. Would definitely order from them again.