Custom Oyster Knives & Shellfish Shuckers
Our custom oyster knives make a memorable promotional item, retail product, or event favor. Each durable knife features a laser-engraved solid hardwood handle with a stainless steel blade (also engravable) perfect for shucking oysters and clams by the dozen. Choose between the New Haven or Frenchman style knife—both offered at the same affordable price.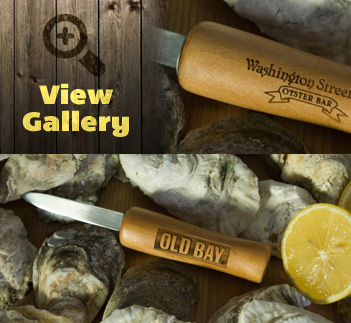 Read what our customers are saying about their Custom Oyster Knives
Average rating of
based on
92
reviews.
LOVED THEM!
This was the second time I ordered from this company and again, the knives and service was awesome. They definitely have it figured out. Easy to order, quick responses, fast shipment, and the product is great.
personalized oyster knives

absolutely perfect from my logo to quality of the knives
Great Service!

Bay Imprint is fantastic! Our first order was small. We needed knives for an oyster event. The order arrived right on time and the knives are beautiful. We are ready for our next order. Definitely using them in the future.
Great Quality
Loved these knives. The quality was great and the customer service was top notch! Quick turn around too.
Oyster Knives
Ordering on the site was a breeze! The knives looked great and are good quality. AND they shipped quick!