Custom Oyster Knives & Shellfish Shuckers
Our custom oyster knives make a memorable promotional item, retail product, or event favor. Each durable knife features a laser-engraved solid hardwood handle with a stainless steel blade (also engravable) perfect for shucking oysters and clams by the dozen. Choose between the New Haven or Frenchman style knife—both offered at the same affordable price.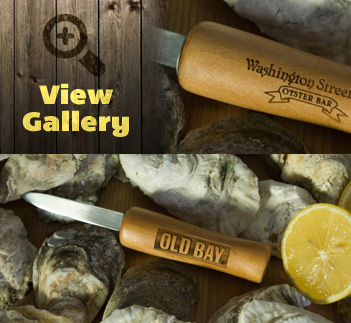 Read what our customers are saying about their Custom Oyster Knives
Average rating of
based on
96
reviews.
Love my purchase!
Used for: Wedding or party favors
I am thrilled with my personalized oyster knives! I really appreciated the help and suggestions when deciding on the design. They came quickly and I was thrilled with the finished product! Y'all are wonderful and I will order again! Thanks!
UNCW Oyster Knives
Used for: Wedding or party favors
Product -- Excellent; Customer Service--Superior It is a pleasure working with you each year for our order for oyster knives.