Custom Color Crab Mallets with
colormark
Make a smashing impression with personalized, full-color Maryland-made crab mallets. Our Rock Maple hardwood mallets are made with unlimited color using your logo, design, text, even photos! Our exclusive ColorMark technology brings brilliant, lasting color to every mallet. Captivatingly colorful crab mallets—only available from Bay Imprint.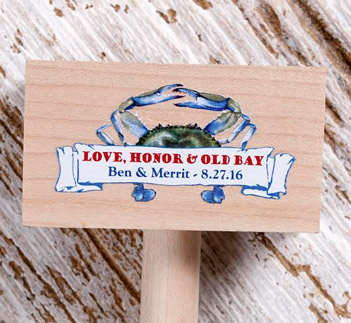 Read what our customers are saying about their Mallets
Average rating of
based on
49
reviews.
Quick + Quality
Used for: A gift
I ordered a smaller set of Crab Mallets and the team reached out to me quickly to understand the order and design I was going for. They were easily reachable and sent proofs in a timely manner. Everything came through quick and so far recipients have really enjoyed them! We may be making a larger order in the future as promotional material.
Round Crab Mallets
Used for: Wedding or party favors

Ordered these as wedding reception favors. They turned out perfectly. Can't wait for the wedding to see the reaction of guests
Long Fence and Home
Used for: Wedding or party favors
Big smash at our Presidents dinner! Everyone loved them
I LOVE THESE!!
Used for: Wedding or party favors
Perfect wedding favor! We are Marylanders, marrying into a family from -Colorado. For Marylanders, you can never have to many crab malles. The Colorado folks will have their own mallets for their first cran feast experience, plus a "big day" reminder. Perfect giff!!!
Great !!
Used for: A gift
Easy to order, good service and help if needed to customize . Good delivery on time. Would recommend.